TLDR: Multi-chain oriented DeFi platform ShapeShift plans to include more features and more chains in the coming months.
ShapeShift is an open-source, multi-chain DeFi platform focused on user self-sovereignty. It is non-custodial and community "owned." The Shapeshift DAO is governed by FOX token holders, who vote on the various proposals that determine ShapeShift's direction and operation. ShapeShift DAO has recently released a roadmap — "debated and discussed" over time — that details ambitious plans for expansion over the course of two phases (one for each quarter). Phase 1 of the roadmap, described below, was approved by Snapshot vote on January 9th.
"The objective with the proposed roadmap is for ShapeShift to become the easy-to-use, decentralized platform that gives users a single place to view their portfolio and DeFi positions while earning yield, swapping, and bridging assets seamlessly between EVMs, UTXO-chains, and Cosmos zones."
The Proposal: SCP-121: Roadmap Proposal Jan - Mar 31, 2023
The proposal describes what the DAO hopes to accomplish during Phase 1 of the Roadmap, which encompasses the first quarter of 2023. Most fundamentally, the DAO would like the ShapeShift platform to include new chains — in particular popular EVMs like Binance Smart Chain, Optimism, and Polygon, as well as the interoperable blockchains within Cosmos known as Cosmos Zones. According to the proposal, this would fill "a large void in the industry" for users who participate in DeFi across multiple chains — a situation that ShapeShift has been designed from the outset to address.
Phase 1 of the Roadmap also includes work on the following related projects:
Metamask Snaps: This nearly completed feature will allow "users to buy, trade, send and receive assets across multiple chains while using ShapeShift."

Bridging: The hope is to "integrate Squid and LiFi to support bridging between both EVM chains and cosmos zones."

Display Cross-Chain DeFi Positions: Users will be able to view "all their DeFi positions across all the supported chains when they connect their wallet."

Savers Vaults: A feature in THORchain that gives "users a simple way to earn great yields on popular, native assets" without KYC.

WalletConnect expansion so ShapeShift users can interact with 450+ dApps.

Wherever: Integrating this tool allows notifications across platforms (Discord, email, Telegram).

NFT Display: provide NFT support for Native wallet and all ETH supporting wallets.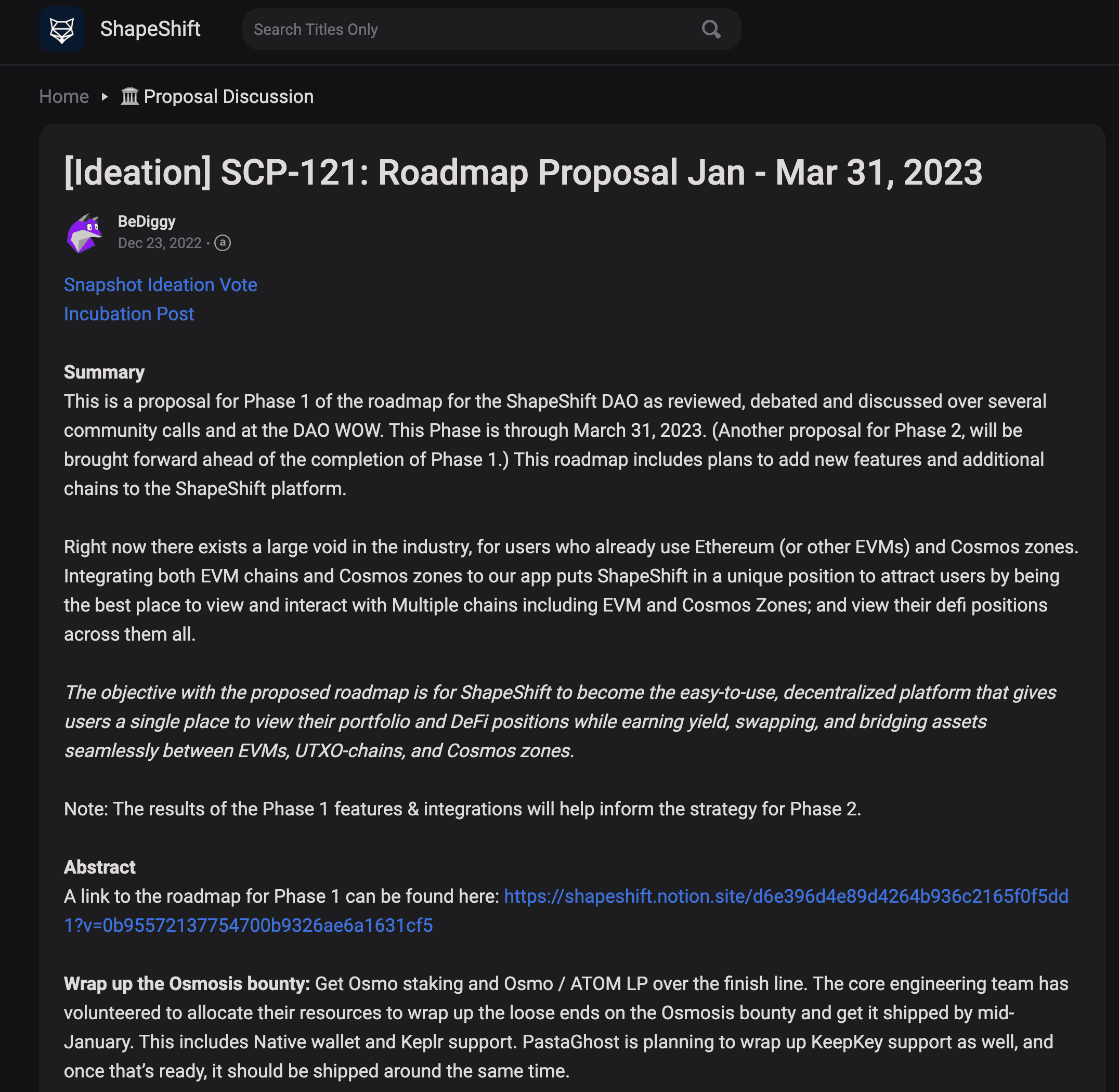 ShapeShift DAO governance has three phases. The first is "Ideation," in which an idea is raised and discussed in the appropriate forum channel for at least three days. The second is "Incubation," when the idea conforms to a proposal template, moves to the "Proposal Discussion" section of the forum, and gets posted as a Snapshot poll (five days minimum). In the third and final "Voting" phase a new Snapshot poll of between three and 60 days in length is created; if successful, the proposal can be executed either by automatic SafeSnap execution or manually via a multisig. Only FOX token holders can participate in voting — though anyone can contribute in the forum.
The "Ideation" stage Snapshot for SCP-121 passed with over 94% voting "For"; the "Voting" stage version of the proposal concluded on January 9th with almost 90% voting "For," reflecting positive community sentiment. The proposal notes potential drawbacks to implementing this phase of the roadmap, namely that bear market conditions could worsen and hamper ShapeShift growth. In any case, progress made in Phase 1 will in large part determine what takes place in Phase 2 of the Roadmap.
The Big Picture
Build and expand or shore up and hold steady? This is a question many protocols face as crypto bear market conditions remain subject to an unprecedented tangle of economic, political, and regulatory uncertainty. Many factors are beyond control, and the timeline for recovery is unknowable. Although the "expand or hold steady" choice appears at first to be binary, in fact many approaches are possible along the risk spectrum. But DAOs must plan and take some kind of action, as ShapeShift is doing here, priming itself for growth in phases so that changes in approach can be adopted if necessary. As a DeFi platform that explicitly aligns itself with the vision of a multi-chain future, ShapeShift is unusually sensitive to the successes and failures of the crypto market as a whole — and stands to gain as it continues to carefully prepare for more users operating on more chains.
---
We'll be tracking this proposal activity closely at Boardroom. Follow our newsletter to stay up to date. If you're a voter in a protocol, make sure to check out Boardroom Portal.
---
Metadata:{{Brief19//shapeshift;cHJvcG9zYWw6c2hhcGVzaGlmdDpzbmFwc2hvdDoweDVmN2Y0YjczMTg3NGY2YjFkMzI0MDVjMDg0MjIyMzY4N2MzMjYyNWZiOTkwNjRhYjBhNWJiYzU1MjU2M2JlZDE=}}