TLDR: Blockchain analytics firm, Nansen, proposes migrating the SushiSwap community to a new product offering called Nansen Connect. This new messaging tool would provide the DAO with a web3 native solution for community and social interactions. SushiDAO weighs the potential tradeoffs of integrating a new tool.
On October 6th, centralized data provider Nansen posted to the SushiSwap forums a proposal to integrate Sushi's community into their new product offering called 'Nansen Connect'. The firm claims Connect enables a token-gated experience that filters out noise and provides real value to existing web3 communities.
Nansen Connect is said to be created so tokenholders can easily and trustlessly identify and communicate with one another. The platform describes three main value propositions for communities: controlling access, inspiring engagement, and unlocking community insights.
The DeFi protocol finds itself in the midst of a more extensive restructuring phase. This phase has introduced a new head chef, a new legal structure, and other novel ideas to the DAO. As the DAO continues to grow, a token-gated solution may potentially help connect the vast amount of distributed tokenholders.
Experimentation is front of mind at Sushi at the moment and adopting a novel tool such as Connect might just be on the agenda.
Proposal: Nansen Connect <> Sushi
Nansen's current proposal requests the Sushi community adopt its platform as its core community hub. However, the proposal doesn't explicitly state how this is to be implemented. The proposal as it stands reads like a product recommendation or pitch. It details the feature it currently implements alongside potential use cases for Sushi tokenholders.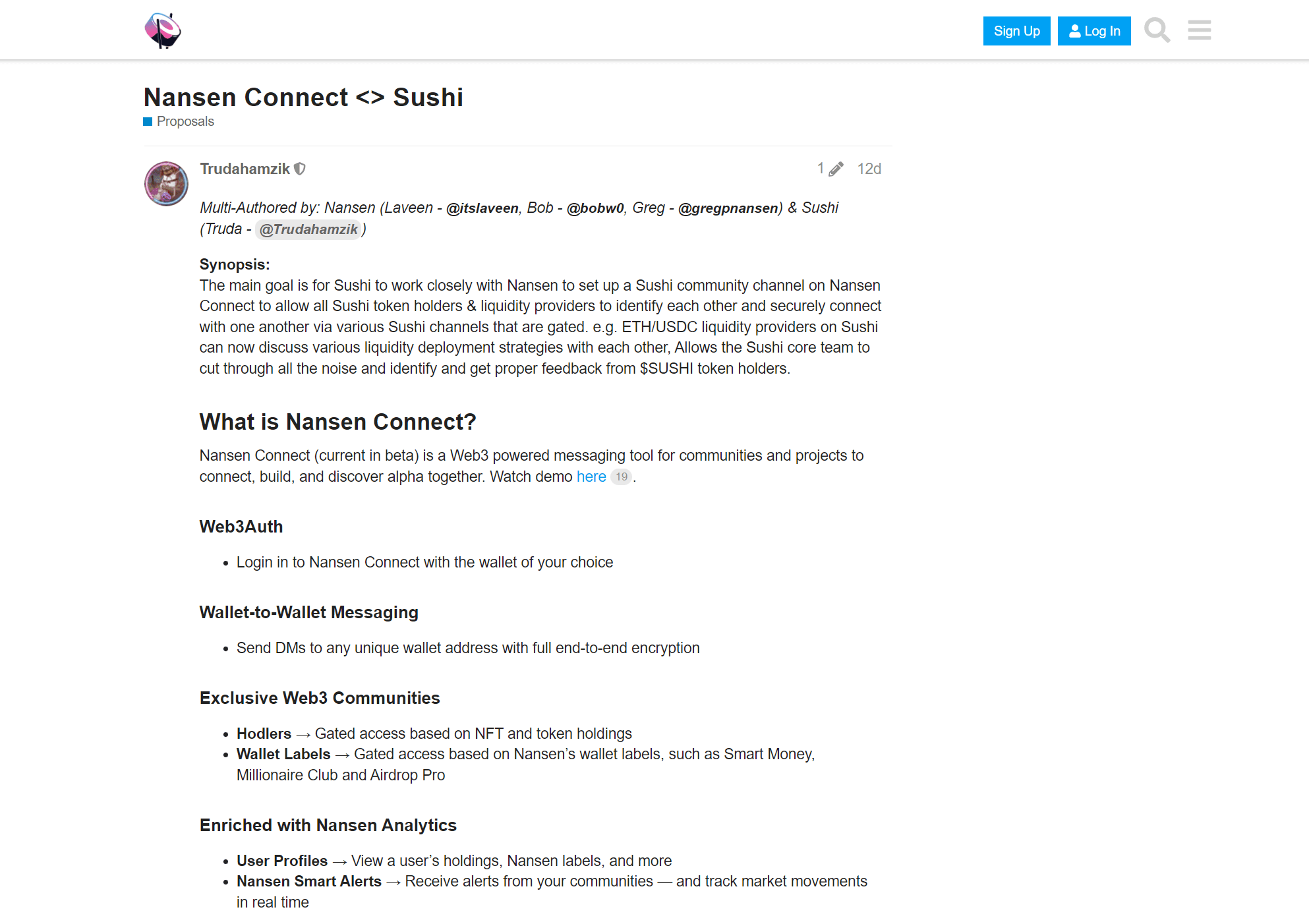 The proposal currently sits in the community feedback phase. It is unclear if the proposal will be amended and clarified before even being considered for a larger DAO-wide vote. Nansen should next look to drive organic community support for its proposal. The firm must showcase the real value proposition of their product as well as further detail the risk tradeoffs.
Sushi's current governance process is centralized and mostly facilitated by the core team. Any member of the community is able to submit a proposal to the forums. Should a proposal garner enough support and engagement a Snapshot vote can be submitted to the Core Team for review. SUSHIPOWAH serves as the governance token at the DAO. 5M SUSHIPOWAH is considered the minimum quorum for a proposal to successfully pass Snapshot.
Comments in the forums request additional clarity on what the proposal is asking from the Sushi community as well as clearly illustrating the potential trade-offs with implementing the tool.
Why it Matters
This proposal is yet another example of centralized service providers leveraging DAO governance as a business development and marketing strategy. Nansen now has to find a way to convince core stakeholders, in a public arena, to support the integrations. Should the DAO decide to move forward with the proposal they could integrate slowly and only adopt if they find Connect useful. As the proposal currently stands, the immediate financial risk of integration is not entirely clear.
The value of onboarding a notable DAO such as Sushi to Connect is clear. Nansen is looking to kickstart network effects for its new product. What value it potentially provides Sushi is to be determined. Scams and exploits run rampant on web2 platforms and solutions such as these hope to solve this through on-chain token verification. A connected and verified tokenized community requires a substrate that enables them to achieve its mission.
Web3 communities, projects, and DAOs are stuck using existing web2 solutions. Native tools are only just now being released that accommodate and understand the unique needs of token-based communities.
Recent platform migrations at other DAOs show us that projects are willing to experiment to achieve their mission. Today, it is evident that web2 tooling does not adequately fulfill the needs of tokenized organizations.
---
*We'll be tracking this proposal activity closely at Boardroom, follow our newsletter to stay up to date. If you're a voter in a protocol, make sure to get on the waitlist for the new Boardroom Portal. *{{Brief04//sushi}}